Wed 16 Apr 2008
Pick up any fashion or design magazine and you will quickly recognize that this spring is all about color. Hot pinks, bright greens, bold yellows and one of my favorites – orange! Below are a few unique orange furniture pieces and accessories that are sure to brighten up any room.
This orange parsons desk from West Elm is a great choice if you are interested in bringing life to a neutral colored space, such as a home office. It would work well as a console to greet you in an entryway. They call this color "polished saffron" and even managed to fit in two drawers.
One thing to remember about orange is that it doesn't necessarily have to be bright or neon. I love this spicy orange chair from Room & Board because it features a really rich, vibrant shade of orange. This would be equally beautiful in a home done in warm fall colors as well as a beach-inspired home decorated in relaxing colors of sandy browns, spa greens and turquoise blues.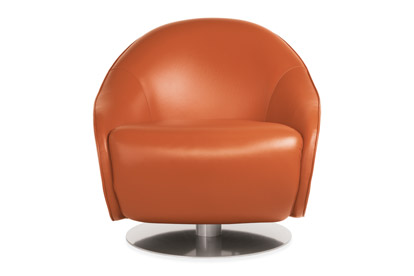 If you have a modern space, here is chair from Room & Board that is just for you. Called the Sutro Swivel Chair, the smooth curved lines and rich orange leather could easily be the standout piece in a mid-century living room.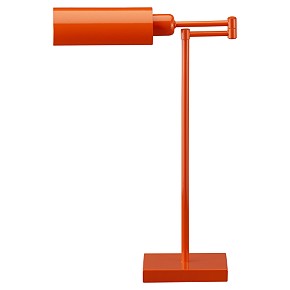 For those of you who want to add a splash of color without spending a lot of money, consider this affordable script desk lamp from CB2. This lamp is a modern twist on the classic pharmacy lamp done in hi-gloss orange lacquer for under $60. I can easily see this practical and eye catching lamp sitting on matching bedside tables.
It's safe to say that most people wouldn't feel comfortable painting a room orange (I'm the exception!). For those who don't want to go so bold, small splashes of color on items such as pillows can also update a drab room. This luxurious velvet pillow features a graphic floral pattern in orange. Pillows are one of the easiest and most affordable ways to experiment with color because unlike paint, you can swap out pillows seasonally.