Wed 23 Apr 2008
Now that winter has passed, my mailbox is full of catalogs featuring outdoor furniture. I've definitely seen an increase in options over the last few seasons. No longer are homeowners limited to wicker or teak. Today there are many materials to choose from that stand up to the elements. Additionally, today's outdoor furniture can be just as stylish as the furniture in your home. It's not uncommon to see sectional couches and even daybeds in an outdoor space.When creating a furnished outdoor space, there are three things to consider: Style, Materials and Accessories
Style – As mentioned, there are many styles to choose from, so where do you begin? A good rule of thumb is to choose something that blends in with your indoor furniture. For example, the chaise lounge above in espresso would be a good choice for a modern home, whereas the curved sofa and matching side chair might work better in a more traditional home or in a tropical garden.Materials – Once you've determined the style of furniture for your outdoor space, you next need to take into consideration the material of which it is made. Wicker tends to erode over time so many outdoor furniture manufacturers have introduced resin made pieces that look like wicker but hold up amazingly well to UV rays, rain, sand and dirt.When considering wood, teak is a tropical hardwood that stands up extremely well to the outside and can even be left untreated because of its natural oils. And if you like the look of metal, you have many options – cast iron, cast aluminum, forged iron and bronze to name a few. Don't forget to ask if it has been treated as some metals can rust. And if you have put aside a generous budget for your outdoor space, furniture covers are recommended. They not only protect the furniture from the elements, you won't have to clean the furniture as frequently.
When selecting cushions, pillows and umbrellas for your patio, make sure the material is stain resistant and fade resistant or your furniture will look old and drab in no time. These two pillows in an Asian textile motif are from Pottery Barn and made of spun polyester which also stays cool and comfortable. They are so stylish, you'd never know they were made for the outdoors!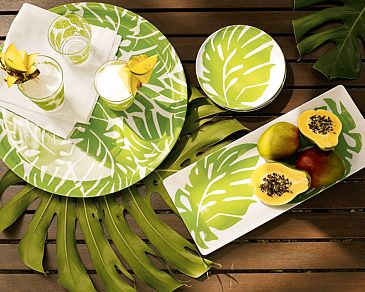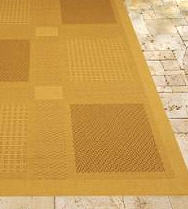 Accessories – Lastly, don't forget to add the finishing touches. Rugs, attractive outdoor dinnerware, lighting (candles, lanterns, hanging lights, chandeliers), and even curtains will all help bring the look together. The soji lantern above is actually solar powered. You are really only limited to your imagination when it comes to creating an outdoor space, so have fun!