Wed 11 Jun 2008
Asian-inspired furniture and accessories have seen increased popularity in recent years. I personally love the timeless quality of pieces from Asia and the feeling of serenity they bring to a living or work space. Below are a few pieces I've come across that blend in well when mixed with other decorating styles. With so many options to choose from today, it is easy to add subtle Asian touches to your personal space.
Above are Shinto bar stools from Green Tea Design based on the classic Chinese farmers' stools found in the countryside. Not only are they beautiful, they are comfortable too. Are you an eco friendly decorator? All of Green Tea Design's furniture is built from reclaimed wood salvaged from Korean farmhouses. And for those on a budget, Target has a great substitute in cherry.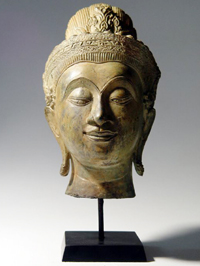 One of my avorite sources for pieces is Eastern Serenity, an importer of Southeast Asian décor. Their store features a wide range of pillows, furniture, wall art, statues and much more. The above Khmer Style Deva statue in bronze would look fantastic on a side table, mantel or office desk.
I also came across these twisted candles holders at Eastern Serenity that are carved from mango wood, a popular material in the Thai culture. Mango wood is frequently used by craftsmen because of its workability, light weight and ability to hold finishes.
As I've said in the past, pillows are an excellent way to mix in different colors and styles. This Thomas Paul Chinoiserie linen pillow from Design Public is the color of corn and features silhouettes of geishas and classic Asian scenes, and would really make an impact on a sofa.
Lastly, this Shinto desk available at High Fashion Home is made of solid walnut from responsibly forested trees in China. An extremely well made piece of furniture, it contains no nails or screws because it was constructed using a Chinese wood joinery technique.I'm always on the lookout for unique Asian pieces, so please send me some of your favorites!